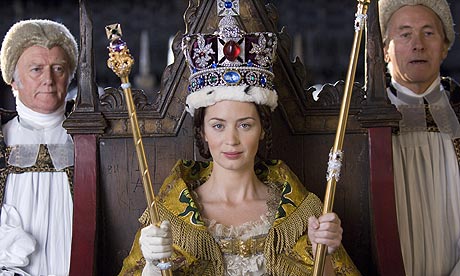 The Young Victoria (Jean-Marc Vallée, 2009)

A dramatization of the turbulent first years of Queen Victoria's rule, and her enduring romance with Prince Albert.
Period films tend to be liked and/or disliked by moviegoers; some like the reconstitution of the past and the big budgets. Others dislike that it's History and that we'll know the how it ends.So for that genre the director has to be creative and has to do an amazing job to hold the crowd.
Jean Marc Vallée (
C.R.A.Z.Y., La liste noire
) has made it; he did a beautiful period film that recalls politics and History of the ninetenth century without being too conventionnal and too heavy of dialogues. The love story isn't full of clichés and it sometimes recalls the great film by
Sofia Coppola
Marie-Antoinette
.
The Cinematography recalls
Stanley Kubrick
's
Barry Lyndon
that was only lit with natural light that gave a golden glow to the picture.
Emily Blunt
's protrayal of Victoria is just right and she shows great strenght as a young actress (who I categorize in the belle laide genre).
The only negative element to this review is my concern about Vallée's director cut which he didn't got on
The Young Victoria
. I would like so much to see an uncut version of this film which I really enjoyed in its Theatrical release. I'm pretty sure Vallée's vision is even better!
Recommended