TSPDT Greatest Films #636
La Ronde
(Max Ophüls, 1950)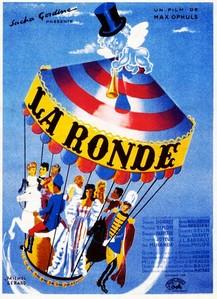 Max Ophüls is considered by many as one of the best directors of all time, I am ashamed to say I have only seen
Letter From an Unknown Woman
and
Lola Montès.
Both are exquisite masterpieces, especially
Lola Montès
, his last film, praised as maybe the best film of all time.
La Ronde
is a story told by Anton Walbrook who plays a debut XXth century "cupid"/ "metteur en scène" of love or as he says a lover of the art of love. He is the element that makes
La Ronde
go round. Told in ten sketches Walbrook's character joins the sketches together. At some point there's an allusion to a well known french expression; to live of love and fresh water: many characters ask for a glass of water only. And they are always more thirsty than hungry. As many of Ophüls films he likes to finish his films at the place they started. He is an amazing storyteller and all his films took us on unforgettable journeys.
The photography is sublime and the black and white is somtimes over lighted or low lighted which makes pretty contrasts to the images. One of the most Ophülsians aspects is the movement of camera that are fluids and sincere all over the film. It's a very haunting film very well scored by Oscar Strauss that transports us into 1900's Vienna.
A beautiful masterpiece that I wish I could have seen in a theater instead of my computer screen (damn you Region 6 DVDs). I will put more films from Max Ophüls on my Most Wanted film list because he was an important filmmaker.